For some of us, RVing is a simple, uncomplicated pleasure. As long as we've got four wheels, a bed, and a few other essentials, we're happy. But that's not usually the case in the world of celebrity RVs. When you're an A-list celebrity with money to burn, you can invest in some of the most ridiculously luxurious, over-the-top RVs imaginable. Join us as we take a peek inside some of the coolest celebrity RVs and celebrity tour buses in the world.
1. Mariah Carey's
2-Story RV
If we asked you to name a celebrity with a reputation for having an expensive taste, Mariah Carey would probably be one of the first names that springs to mind. So it should come as no great surprise that the superstar songstress is the proud owner of a two-story motorhome valued at more than $1.8 million.
Dubbed the Skyscraper on Wheels, this traveling palace boasts more than 1,200 square feet of floor space. From the marble kitchen and the 15-foot sofa to the 65-inch TV and the hair and makeup zone, this RV features everything you'd expect to find in any celeb mansion.
But the real highlight is up on the second level, where Carey and her entourage can kick back in the nightclub-style lounge. Who doesn't want to take their favorite club with them everywhere they go, right?
Take one look at this opulent double-decker RV, and you'll instantly be singing Carey's classic hit: All I want for Christmas is you!
2. Simon Cowell's Monster RV
Video source: HGTV
Everyone's least favorite talent show judge cranks the volume right up to 11 with this luxurious home on wheels. Valued at an astonishing $2 million, the star's RV features two bedrooms, two bathrooms, and a whole lot of bling.
There are 1,200 square feet of space in total, and the trailer weighs in at a massive 30 tons. It's not hard to see yourself relaxing in the cinema room with its 100-inch screen, whipping up a meal in the fully-equipped kitchen, or prettying yourself up in the spacious room. And there are cool features everywhere you look, including a spiral staircase, electric window shades, and leather couches.
All things considered, it's easy to see why the Simon Cowell motorhome is the envy of RVers the world over.
3. Will Smith and
The Heat
The man commonly credited with starting the celebrity motorhome craze is Will Smith. Smith's $2.5 million dollar behemoth, nicknamed The Heat is his home away from home when he is on set.
This castle fit for a Fresh Prince features 14 (yes, 14) flatscreen TVs, a gym, and a lounge that can seat around 30 people. It's also packed with high-tech goodies like paparazzi-blocking blackout shades, and this double-decker RV boasts 1,200 square feet of space. 
Whichever way you look at it, this huge motorhome is just plain drool-worthy. Imagine being able to retreat here for some quiet time during a busy day of filming — "If anyone needs me, I'll be in my trailer." 
4. Vin Diesel's RV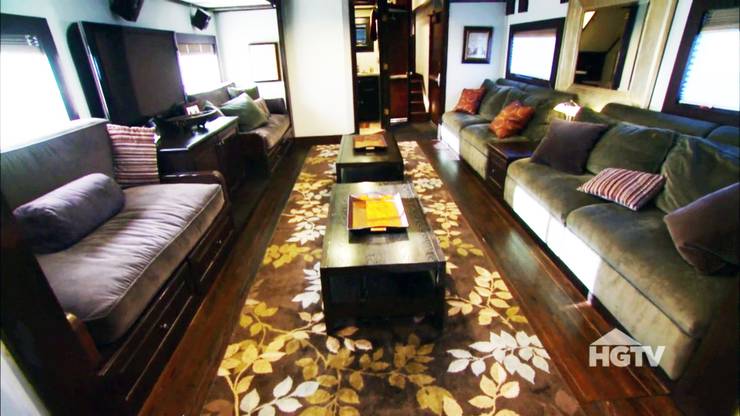 Given his catalog of work, you could be forgiven for thinking Vin Diesel was more a high-octane thrill seeker than an RV kind of guy. But you'd be wrong, as the star's astonishing custom-designed trailer will prove.
With 1,100 square feet of floor space, the RV's best feature is the spacious living area that would look right at home in any Hollywood mansion. Other features include flatscreen TVs, granite countertops, and a play area for Diesel's kids.
The actor's RV was purchased for $1.1 million, making it something of a budget option compared to some of the other celebrity motorhomes on this list. But it clearly ticks all the right boxes for Diesel — he loves his RV so much, he even had it shipped to Puerto Rico when he was filming Fast Five.
5. Kellie Pickler's Neat RV Closet
Spend some time Googling pictures inside celebrity tour buses, and you'll no doubt come across Kellie Pickler's home on wheels. 
The country music starlet grew up in a trailer and has RVing blood coursing through her veins. So when she found fame on American Idol, this customized tour bus was always in the cards. This cottage-themed trailer, featuring a mini spa area and a built-in dog kennel, has all the creature comforts. 
But the biggest highlight? The shelving space for Pickler's impressive shoe collection, which really does have to be seen to be believed.
These five celebrity RVs may be a little over the top, but it's hard to deny their luxurious appeal. If you ever found yourself with a spare million bucks (or two), could you find room for one of these amazing motorhomes in your garage?
6. Miranda Lambert's Home Away from Home
It's no secret that Miranda Lambert has several trailers that could easily make up their own list of coolest celebrity RVs. "The Sheriff" is just the newest addition to Miranda Lambert's trailer collection. Parting ways from her usual vintage pieces, this 2020 Airstream Globetrotter is Lambert's first new trailer.
In an Instagram post, the award-winning country music artist announced her plans to travel around the US in her new rig, along with her husband, Brendan McLoughlin. Though she has traveled extensively for the past 19 years touring, Lambert has never really gotten to stop and see the places she stops in. With all of the cool advantages of an Airstream, she's sure to enjoy her time on the road now!
7. Sara Blakely's Classy Class C RV
Actors and musicians aren't the only ones preferring to spend their time on the road in luxury. Spanx inventor Sara Blakely is among one of the many Americans that have recently discovered the joys of camping in an RV.
Blakely and her husband picked a large Class C rig, which is perfect for toting them and their four young children around on fun adventures. Interested to see where they go? Follow their journeys on Instagram!
8. Dierks Bentley's Airstream
Last on our list of the coolest celebrity RVs is Dierks Bentley's renovated Airstream. This rig underwent a stylish transformation on the HGTV show That Junk Gypsy Life. What started as an older model in serious need of an upgrade transformed into a cute and functional home away from home.
Some of the personalized touches in the country artist's RV include a unique dinette table made with resin and old concert posters, a vintage kitchen carved out of a vintage buffet, and an old motorcycle tank repurposed into a neat light fixture.
Taking Inspiration
Perhaps seeing the eight coolest celebrity RVs has sparked some inspiration for your own rig. Maybe you need more closet and storage space like Kellie Pickler. Or maybe you have an idea to repurpose something old to spruce up your space like Dierks Bentley. Even though we all can't have these luxurious RVs, it doesn't hurt to dream!