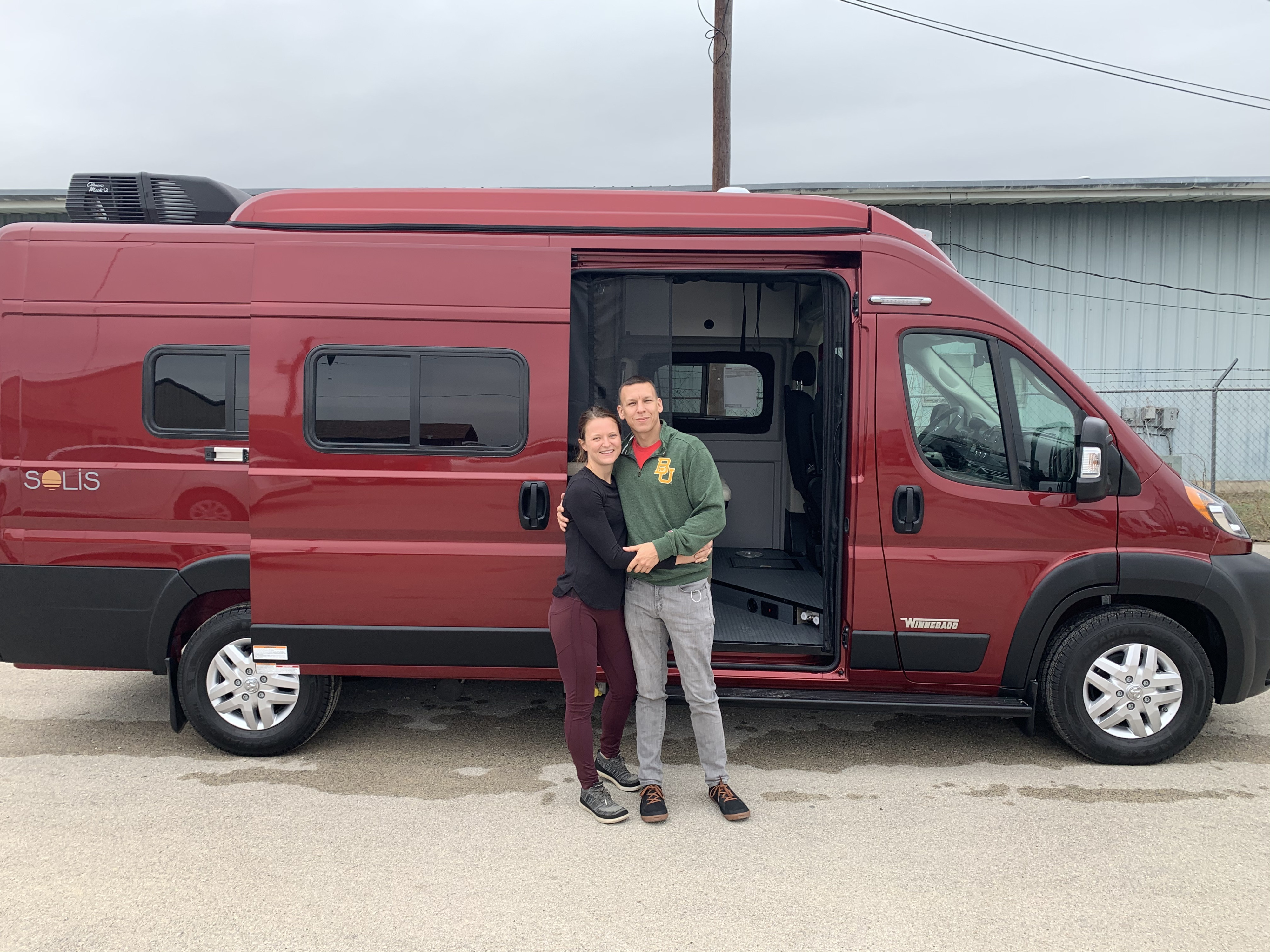 5
Outdoorsy member
Host since January 2021
---
---
100% response rate
Typically responds within an hour
About Lindsey Umlauf
We're a family that loves exploring the outdoors and spending time around a campfire! Rosie has been a wonderful addition to our pack and we want to share her with others who enjoy the outdoors!
5
Outdoorsy member
Host since January 2021
---
---
100% response rate
Typically responds within an hour
---
Memories made on trips with Lindsey Umlauf's RVs
---
Super fun and great overall experience
We rented Rosie for a trip to a folk festival for a week - just me and my two boys!
From start to finish this was an incredible experience.
Lindsey was so easy to work with and very efficient and helpful.
The van was exactly as promised and met every expectation we had for our adventure.
It was lovely to have such a comfortable, clean and user friendly vehicle.
We spent one dust and heat filled week in Kerrville and each day I looked forward to retreating back to Rosie at night for a restful sleep, waking up for fresh hot coffee every morning. The boys slept up top and everyone had plenty of space.
She drives like a dream and everything was very easy to use and self explanatory.
We even got to experience what happens when you forget to unplug from the 30amp and pull forward - we broke the plastic cap that attaches the cable into the van. Despite how badly we felt about this, Lindsey was kind and patient and we walked through the insurance and claim process together - luckily it was a quick fix that didn't break the bank. We so appreciate the honesty and kindness we experienced through this little snafoo.
We will be back for more as this was a 5 star adventure from start to finish!
1 Photo submitted by Emily G.
The whole experience was great! The van was awesome. Highly recommend!
We had an amazing trip thanks to Rosie and her owners Lindsey and Jon. They keep their RV super clean and stocked with the basics and a few cute accents. Also, Lindsey was extremely accommodating on pick up and drop off times and immediately responded to our text about rotating the front seats to create a living room atmosphere. Rosie is a high end rental with very comfortable beds both in the pop top and the Murphy bed. We were very excited we could load our tandem bike through the garage and easily secure it. Had a great vacation! Would rent again from Jon and Lindsey!
6 Photos submitted by Pamela B.
Rosie is a great RV. She was easy to drive and had no problem getting around Texas' national parks. The kitchenette and bathroom were great to have and Lindsey was great about explaining how everything worked. She really went the extra mile to make our anniversary trip with Rosie extra special.
4 Photos submitted by Andrew P.
Awesome! Highly recommend. Would use again.
Wilhemina L.
5•October 2021
We had an amazing family vacation with Rosie! Our initial reservation was canceled 2 days before pickup and we worked with Outdoorsy Concierge to find a replacement vehicle which wasn't easy given our requirements for a dual carseat friendly van with two queen sleeping areas. Lindsey was incredibly responsive our entire trip and promptly assisted us with any technical questions we had. Traveling in Rosie was a total breeze and we put her through both hot and cold climates and she was wonderfully cozy in both. There was more than enough storage for our 8 day trip, we even had empty compartments and could have easily added our road bikes to the rear storage area. The built-in screens were super handy in Palo Duro Canyon and the heater was essential on our mountain campsite under the aspens outside of Santa Fe. If you are looking to explore #vanlife as a family I highly recommend trying out Rosie.
2 Photos submitted by Wilhemina L.
Jennifer S.
5•September 2021
Incredible experience! We absolutely loved it. The van is small but very well thought out and laid out.
Lindsey's answer
Thanks so much! I wish you the best with your future van adventures!!
2 Photos submitted by Laurence T.
My family will have forever memories after road-tripping to White Sands, Carlsbad Caverns, Ft. Davis, McDonald's Observatory, Marfa and Big Bend with Rosie. She made traveling to all these destinations very easy because she would be able to fit in most normal car parking spots, drove like a normal car, and had all the amenities we needed to road trip without having to check into a hotel. Rosie's host Lindsey is incredibly responsive and made the experience very, very easy and pleasant! We were so excited to rent Rosie and all our expectations were met thanks to a great host!!
We have been wanting to try van life for a while and Rosie was exactly what we had hoped for on our adventure! Everything was clean and the Umlauf's were very helpful in sharing how to work everything, making the experience stress free and allowing us to be confident with our use. We slept our family of four (two adults & our 6 and 3 year old). The kids navigated the van easily and loved the upper bed loft for a controlled camping experience. The black out windows offered great privacy and allowed the kids to stay asleep in the mornings (a miracle!) and the air conditioning worked excellent. There are ample usb and wall plug chargers in addition to storage cabinets for our devices and groceries. The bug screens were wonderful and kept them out, which was nice for air circulation. It all felt very comfortable and easy to drive. The beds (lower and upper) are firm, if softer is preferred, simply pack a egg shell roll :) We will rent again and enjoyed our time with Rosie!
4 Photos submitted by Mallory S.
Lindsey was a very accommodating host. She was detailed, and Rosie was beautiful. Our experience makes us want to go out and buy one. If we are back in the area, we will rent again.
Jay and Julie
Lindsey's answer
Thanks Jay and Julie! You both were wonderful to meet and I'm glad you enjoyed Rosie! I'll look you guys up if I head up to the PNW! Take care.
Lindsey was wonderful! We needed to take our elderly mother to Arkansas to see her sister one last time and Lindsey's Class B 'Rosie' was the perfect vehicle for the trip. Not only did Mom ride in comfort on the easily accessible bed but my sisters and I found the rig to be a dream to drive. We used the generator extensively and it was amazingly quiet. As a fellow Outdoorsy owner, I deeply appreciate the quality of the equipment as well as the service we received.
Lindsey's answer
I'm so glad Rosie was able to help with your mom's wish to see her sister. It was great meeting you all- take care ❤️