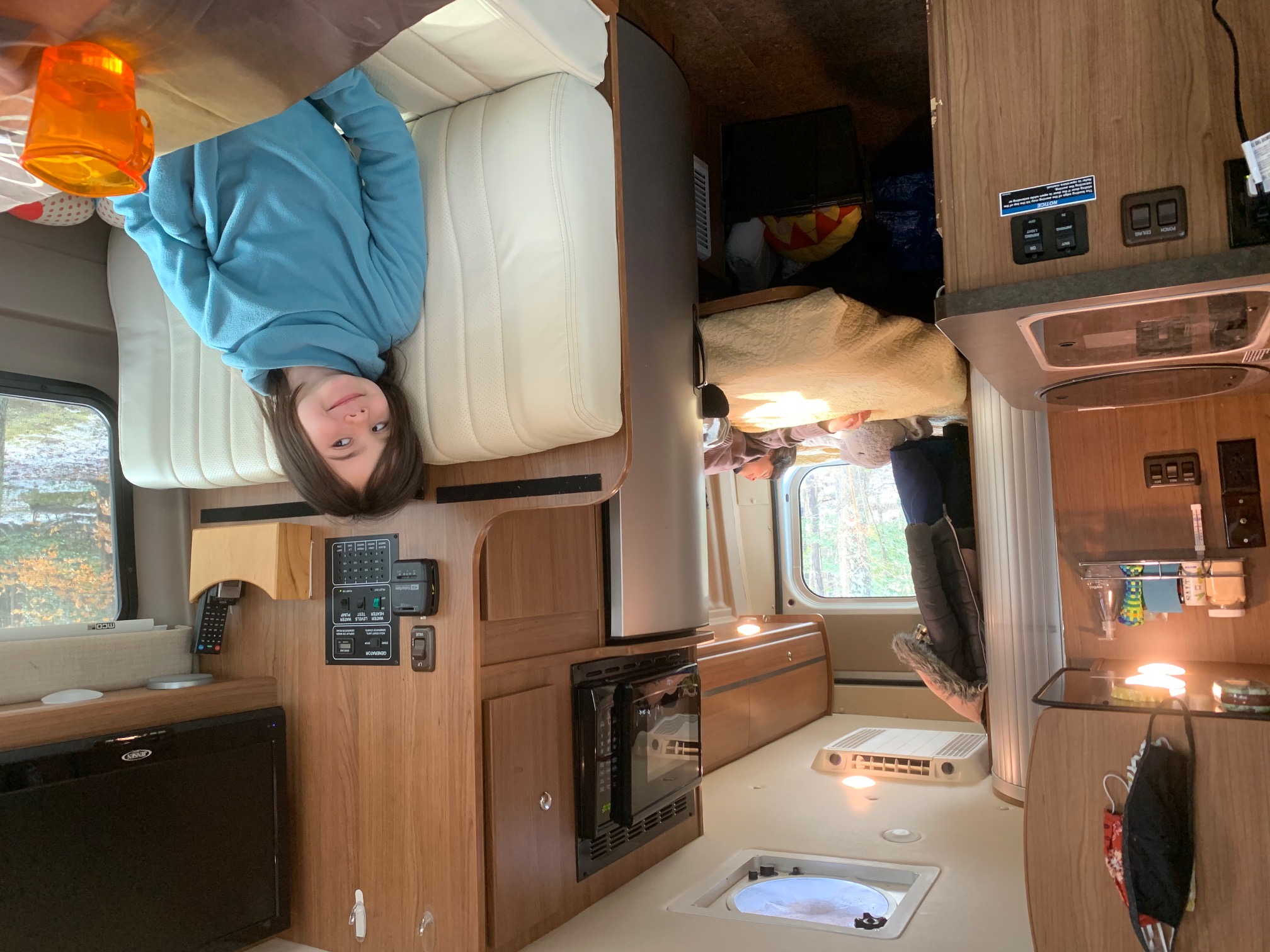 4.9
Outdoorsy member
Host since February 2021
---
---
84% response rate
Typically responds in less than 12 hours
About Chris and Anya French
We couldn't imagine a more perfect class B RV for 2, 3 or 4 people - it's not too big, and it's not too small. It handles great, feels more like a van than a truck, and crucially, it truly sleeps 4 (NO POP-UP necessary) which is *very* hard to find in this size /class of RV, and which makes this van a nearly year-round vehicle. Our family managed the morning conversion from sleep to eat to hang- all without leaving the vehicle during a long rain and snow storm. The fold down bed AND the bench puzzle bed (the mid-vehicle benches convert with extra cushions) each sleep 2 medium build adults, and we made a bonus sleeping "hideaway" area under the fold down "loft" bed for our daughter, using two camp pads -- she loved it. This means that there is technically sleep space for up to 5 people, but please note that the RV only has belted seats for 4, so it would mean bringing an extra car along for a family of more than 4 to travel with this rig. The van has one of the biggest bathrooms you'll find in a class B - a flush toilet and sink with showerhead above and even a curtain. The kitchenette includes a two burner stove, microwave, sink, and a large (for an RV) refrigerator. The dining area is comprised of the back passenger 2-seater bench, a door-side one-seater bench, an extendable table, and the two front captains chairs swivel 180 degrees to face the dining table. On board you will also find a TV and dvd player. Our 2015 Travato 59G van has new tires, a back-up camera and super comfortable captain's chairs up front. It's so easy to drive, with a great turning radius and you will love driving it because it comes with so much house, yet drives like just a van. Note: we currently do NOT have a generator on board, and instead provide a lithium battery pack that will power small appliances like laptops when you're not connected to shore power. You must be on shore power to run the microwave and the air conditioner. The fridge, furnace and stove can all run on propane. We keep an electric space heater. In addition to the AC and exhaust fans, we also keep a battery operated camping fan on board. Check back for updates as we work to phase in more solar and lithium battery power.
4.9
Outdoorsy member
Host since February 2021
---
---
84% response rate
Typically responds in less than 12 hours
---
Memories made on trips with Chris and Anya French's RVs
---
Highly responsive owners who keep this van in great condition! Enjoyed renting from them, very much, and would do so again. Decent people.
We had a very good trip and no complaints with the service provided, but found that this particular model of RV might not be the best fit for us.
Michael M.
5•September 2021
Loved our first experience van camping. Took it to Cape Henlopen State Park. As description implies, a lot of amenities for the vehicle size. The A/C was much appreciated during afternoon hours, although it was cool enough at night that we just slept with it in fan mode. Chris was very responsive to all my "first timer" questions during the trip.
Great experience. Chris and Anya were very well organized. Flexible pick up and drop off. Thorough walkthrough of operations and amenities. RV has everything you would possibly need during the trip. Well stocked and organized. Space was great for two people, but its been known to accommodate more. It is super easy to drive and a very comfortable ride. Best part was being able to fit in regular parking spots and driving through major cities. The AC in the RV was great in warm temps. Chris and Anya were very responsive. Quick to reply to texts if anything comes up while on the road. Overall, Great experience.
We rented Chris and Anya's RV for one glorious week of traveling around Maryland and Virginia with our two children. Chris gave us an amazing, thorough walkthrough of the operations and many amenities of the RV, which was key since we were first time RV users. We found the RV to be plenty large enough and well-equipped for our family of four. The two beds were perfect for us, but it was also good to have the floor sleeping location as a back-up. It was a bit chilly outside some of the nights we were out, but it was warm and cozy in the RV. The sun shields and insulating window covers did a great job blocking the light and helping keep us warm at night and cool during the day (using both in combo to block sun, or just the insulating covers to warm things up on sunny, cool days). It actually took us a time or two to get the insulating covers installed just right, so I've included a photo in this review to help future renters.
We found the RV super easy to drive (we had experience driving 15-passenger vans and this was similar), the ride very comfortable, the operations of the RV uncomplicated, Chris and Anya's quick replies to texts super helpful, and the trip very enjoyable overall. Also the kids loved sitting at a table while riding in a "car" and we all loved traveling with our own toilet (especially during a pandemic)!
If you are interested in an RV adventure or finding out if you are RV people, we highly recommend Chris and Anya's RV for families of four.
3 Photos submitted by Susan P.
Chris and Anya set up up for success. Their vehicle is in great shape and they took great effort to make sure we were prepared to enjoy it. Very sleek, modern and well designed, this was an intro to "glamming" for us. We had no issues making the most of the great sound system, opening screened windows for cross wind and the fridge was "huge" for a camper. We did have some user error with turning on the different lines but they have a cheat sheet to help. Easy to clean out the lines as we were leaving with low gross factor. We had an amazing weekend!
Great experience, we learned so much about Van life in this trip . The van drives well, few hiccups but Chris helped out right away .
Chris and Anya were super helpful and well organized .. just load and go ..
We had a terrific time renting this Travato! Chris and Anya gave a thorough run down before we left and turn-in was quick and easy.
Anya and Chris were so accommodating and helpful. They really took time to make sure that we understood how everything in the RV worked, and even kindly answered the one question we called and asked about at 7 am while on the road. I would say that this is a really great camper for 1st timers like us, because the drive is great (it's not TOO big to handle) and things are relatively intuitive and easy to use, including the kitchenette. I have to say that the bike rack (pictured here) is a nice addition as we decided to bring our bikes to our camp site and that ended up being a good idea.
2 Photos submitted by Sara A.