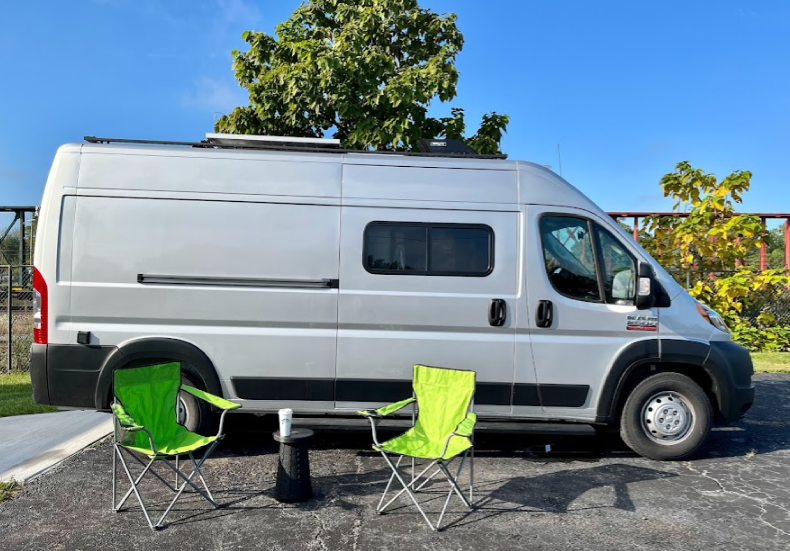 5
---
---
100% response rate
Typically responds in less than an hour
About Marc Rosenblatt
I've been building homes in Michigan for 22 years and thought I'd try my hand at a van! Loved it so much I now build both vans and trailers to rent, sell and for custom projects. I grew up in Michigan and got a degree in English from the University of Michigan...GO BLUE! When I'm not working, I spend time with my wife of 23 years, our two children and our two dogs!
5
---
---
100% response rate
Typically responds in less than an hour
---
Memories made on trips with Marc Rosenblatt's RVs
---
Casandra U.
5•October 2022
What a great way to travel! Even the dog loved it.
1 Photo submitted by Casandra U.
My husband and I (and our 2 dogs) rented Marc's campervan for a 10 day road trip from Michigan thru New England and back thru Canada. The campervan is so thoughtfully designed and had everything we could have needed. The battery and water storage capabilities meant we could book campsites where we wanted and didn't have to worry about being tied to electricity or water every night and still have the ability to cook and function. We were definitely sad to return the van. Marc was also great to rent from: very helpful and understanding. Would definitely recommend for your next adventure!
5 Photos submitted by Brooke T.
We had the most amazing weekend up north with the van!! It drives so smooth and the interior has everything you could ever need! Super comfortable in the heat of the day and the cold nights. Marc is great and willing to help answer any questions throughout the rental. Would love to rent it again!!
2 Photos submitted by Anne L.
This is our second time renting from Marc. We've rented previous vans from different companies but this build out is just so much better then any other van! This van is exactly how we would want our future van! You won't be disappointed!
2 Photos submitted by Victoria G.
Loved our upper MI trip in Marc's van! We were "off the grid" for a few days and had power and water to spare. The amenities were easy to use and made the trip feel luxurious. We might be converted "campers" if this is our experience every time. Thanks, Marc! Go Bucks!!
1 Photo submitted by Sara A.
This was our first van adventure and we had so much fun exploring northern Michigan with our pups. Would definitely recommend Marc's van for somebody looking to adventure. Marc was very responsive and quick reply when we had any issue. The van was easy to learn and use for first time van users and it was surprisingly very easy to drive.
4 Photos submitted by Kelsey C.
We couldn't be happier with the experience of renting with Marc! He answered all our questions immediately and made the process very easy; he was very accommodating with our planning. The van itself was fabulous - everything we could have hoped for and more. Big bonus to be able to take our dog (she hadn't done well with tent camping in the past, but this was a great new adventure for all of us.) We were able to explore several areas of Michigan that were relatively new to us and really loved everything about the experience.
4 Photos submitted by Laura L.
This trip was exactly what my soul needed. My pup and I had a blast! The van was very clean and in great condition. Marc was great to work with, very friendly and helpful. I highly recommend taking a trip in this van. I was able to make so many memories in it.
2 Photos submitted by Nicole A.
This was our first sprinter van experience and it was incredible. We had such a good time we are already planning our next trip. This sprinter van comes with everything you need for an unforgettable weekend in Michigan.

Excellent communication throughout the whole trip ! This van is top of the line , everything you need for your travels !
1 Photo submitted by Zachary W.
Super friendly check-in and tour of the van. With so much necessary items already included in the van, packing for the trip was very simple. Everything i needed to cook, eat, and even clean up was included. The van was very thoughtfully stocked. The van was quite simple to drive and very well-maintained, making for a smooth ride. The owner provided excellent communication throughout our interactions and would definitely consider renting here again in the future.
Such a phenomenal experience. I was anticipating a regular quality build but the owners of this van did such a stellar job building it out and providing every feature you could possibly want plus more. Details like dimmable lights around the bed, high-power solar panels so we always had between 78-100% battery available for heat in the middle of the night, cooling after we parked, every creature comfort.
First timers in an RV… Had a great time in this camper van! We took it out for 4 nights in February, just had to get away so we decided to hit the open road even in winter. We never had to hook up to electricity, the marine battery would always recharge to 100% after minimal driving time. The van kept us very warm. Battery never went below 75% even after a whole night of the heat on full blast in 20 degree weather. Very easy to empty the cassette toilet- can even walk it into a gas station toilet like a briefcase and empty into the toilet there. You can't smell the contents of in the bottom cassette *at all*, which I was worried about as a newcomer. The counter space works really well for prepping food. The van is easy to drive and did well in the snow. We especially appreciated the reverse osmosis water filter and faucet- made it easy to always have safe drinking water. Marc the owner was very friendly and easy to get ahold of w any questions.