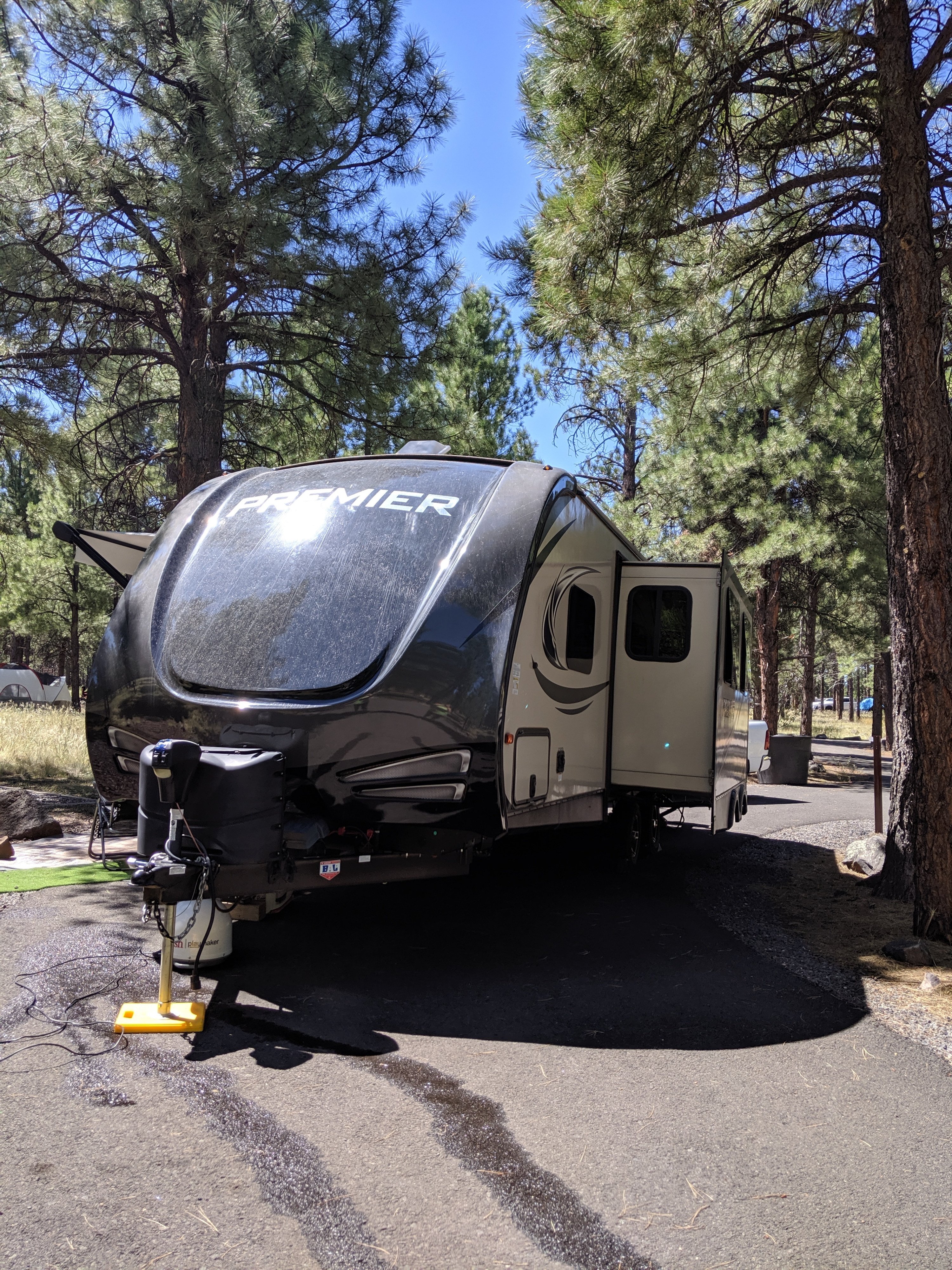 4.8
Outdoorsy member
Host since March 2019
---
---
100% response rate
Typically responds in less than 6 hours
About John and Tracy Podboy
Hi ! We are a family based business...my husband ,my brother and myself . We understand your needs and we take great pride in our unit ! Our goal is to make the transaction and experience as easy as possible. When you rent with us ..the unit is completely set up for you to start camping ! Completely turnkey !!!! Just add fun ! Thank you ...Tracy podboy
4.8
Outdoorsy member
Host since March 2019
---
---
100% response rate
Typically responds in less than 6 hours
---
Memories made on trips with John and Tracy Podboy's RVs
---
Schuyler W.
5•November 2022
The camper was great. It was clean and well maintained. A perfect fit for my family of 4.
My family of five rented the trailer for the weekend and it was everything the description said it would be and more! Tracy was awesome and the communication was great! The trailer was extremely clean and Tracy went above and beyond to make sure my family was well taken care of. The trailer was delivered on time and Tracy was very flexible and just a call away if we needed anything. Highly recommend staying in their luxurious trailer!
If you are looking for a fully-furnished rental in excellent shape with a helpful and attentive owner, consider this your best bet! We were delighted to drive up and find the RV walk-in ready for our trip. Even our neighbors remarked on watching them clean the windows and wiping down everything! Outside was fully set up and ready for us to relax after our long drive. Tracy was there to explain everything to us and made it clear she was only a phone call/message away if we had a problem or anything needed her attention (nothing did). We will definitely rent this trailer again from Tracy…thank you so much!
Tracy and Brother Bill are awesome! The trailer was beautiful & super clean. It worked out perfectly for us and our two kids. The delivery, set up & take down was the best! We just had to show up ready to vacation! We will definitely be using them again for our future trips!
I drove all the way from the San Francisco Bay area to Lake Havasu, AZ where I was welcomed by a wonderful sight. Mary and her team had the trailer set up for us and it was flawless. It was modern, clean, and everything worked perfectly. They had a lovely table and chairs set up outside and a gift basket inside with a nice bottle of wine. It was so nice to be able to sit down and enjoy a nice glass of wine after such a long drive, knowing that all of our needs had been taken care of. Thank you Tracy for such a wonderful experience and I look forward to renting your RV next time I'm in Lake Havasu. For those interested in renting this unit, I highly recommend it!
John and Tracy's answer
Thank you Todd! I knew after that drive here , you would need that glass of wine ! My goal was to make your stay in our unit as easy as possible . We wanted to make sure you had no extra "anything" to do as far as the trailer . I'm so glad you enjoyed your stay , and I'm looking forward too seeing you again !! Sincerely Tracy ...
My girls had a great time in this camper. I can't say enough good things about the owners John and Tracy and her brother Bill. The unit was very clean and in great shape. Tracy was so sweet to check in with me to see if everything was okay with the camper and if there was anything my girls need!
I highly recommend this camper and the owners John and Tracy!
🥰🥰🥰
John and Tracy's answer
Thank you Tracey ! We are so glad to have met you and your husband ! It makes us do happy that we can bring families together to spend time with each other and make precious memories . We are glad the girls were comfertable and stayed cool out here in az . We look forward to seeing you all again soon ! Sincerely ,Tracy , John and bill !
Claudia H.
3•September 2020
Nice clean trailer equipped with all the basic items needed for stay. The major problem we had during our stay was the air conditioning did not work properly even after following all the instructions from the owner on how to keep it working. It was an extremely hot weekend and we couldn't get any relief from the heat during the daytime because the air conditioning just wouldn't stay on. Owner had acknowledged to maybe some kind of discount from the rentals fees, but a week has gone by since our stay and I haven't heard back from them.
John and Tracy's answer
This was an unfortunate isolated incident . In 119 degree weather , this unit amps where on overload .The unit did perform and was in working condition as the temps dropped a bit ,or I'm sure the renter would have not continued her stay . It was rented the next day , same area , few degrees cooler ,and that renter had not one issue and also showed up the " walk thru " which this renter did not .I have not responded because I am waiting on a estimate due to slight damage on bathroom countertop , which will be no charge to renter as claim period has ended . I will offer renter two free nights for the inconvience of hot weather ...I feel this is fair ...because after consulting with my rv tech ..most units with 30 amp service in EXTREME HEAT will experience the same or similar issues . Thank you .
Everything is a 5 star rating working with Tracy.The trailer was immaculate!!! We had a power problem at the campsite and Tracy and John gave up part of their day to bring us a generator to save our night. You will enjoy working with Tracy and John. The trailer is well equipped and very comfortable.
John and Tracy's answer
Thank you Fred ! You were a PLEASURE to work with ! I'm so glad the unit fit your needs and we were able to help! Although your trip started a little "rocky" ..seems it did smooth out so you could make memories with your family . Thank you for your business, and again a pleasure meeting you and Lynn !
Tracy John and her brother Bill were amazing! They had the trailer set up and ready for us to camp as soon as we pulled up to our campsite! Extremely clean, very thorough walk thru to learn about how everything worked and the owner's are so friendly! We appreciated the easy communication and fast response time. They take great care to make sure they're renters really enjoy their experience with their trailer!! We will be renting from them again.
John and Tracy's answer
Thank you Anissa ! You were a pleasure to do business with !!! I'm so glad our unit was everything you expected . We try to make the experience as easy as we can for our valuable customers and take great pride in our unit . Thank you so much !!
This was my first time renting a trailer and I have to say that Tracy made it a very good experience. Communication was excellent! Trailer was exactly as described in the listing. It was modern, clean and comfortable and worked perfectly for my family. I will definitely use Johns and Tracy's trailer for my next trip.
John and Tracy's answer
Thank you so much! We are glad it all went well and you were able to make precious memories with your family ! Thank you for your business...we appreciate it you so much ! Tracy
Michael T.
5•February 2020
Tracy was an absolute pleasure to work with. Super responsive to all messages and inquiries, and went out of her way to accommodate us, which really helped make the whole experience fantastic. I would absolutely recommend them, as they have quite honestly been the best owners we have ever rented from. Thanks again!
John and Tracy's answer
Thank you so much!! My pleasure 😊
2 Photos submitted by Michael T.
We can't say enough about how outgoing John and Tracy were! They went above and beyond anything we could have expected and were always there if we had any questions or concerns. The unit was beautifully appointed and was perfect for our family Thanksgiving vacation and we would highly recommend them as your 1st choice for an RV vacation!